The team at sports network TSN got their hands on an advanced copy of NHL 18, and they've provided intel on the some of the game's top rated rookies. This is how the best of the 2017 draft class stacks up in EA's NHL 18:
Mikhail Sergachev – Montreal Canadiens – Overall Rating: 66 – Potential: Elite (Low) – Drafted 9th Overall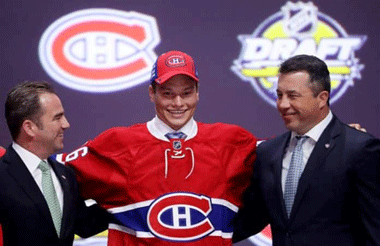 For a long time, Russia was a country that didn't produce elite defensemen. However, Mikhail Sergachev is part of a new generation of Russian blueliners who are trying to change that. Montreal will be expecting a lot from this dominant two-way defender.
Olli Juolevi – Vancouver Canucks – Overall Rating: 66 – Potential: Elite (Low) – Drafted 5th Overall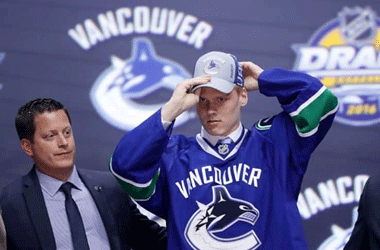 Olli Joulevi was the first defenseman picked in the 2016 draft. He may not be as flashy as other blueliners in his draft class, but Joulevi plays a complete game, and because of this, he can be trusted at both ends of the ice. The 18-year-old Finn is a strong skater who uses his size to his advantage, and he is a gifted playmaker.
Pierre-Luc Dubois – Columbus Blue Jackets – Overall Rating: 69 – Potential: Elite (Low) – Drafted 3rd Overall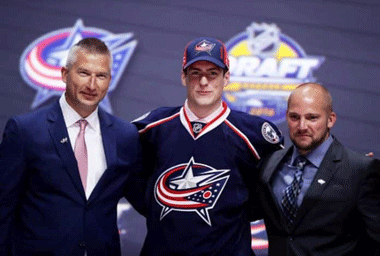 Columbus Blue Jackets GM Jarmo Kek?l?inen surprised everyone when he acquired Dubois with the third overall pick, over such names as Puljujarvi and Tkachuk. Well, the Blue Jackets believe in Dubois, and they should. The Quebec native is a power forward who plays an elite two-way game. He could be the next Anze Kopitar, and for the brass in Columbus, that sounds just fine.
Alexander Nylander – Buffalo Sabres – Overall Rating: 73 – Potential: Elite (Low) – Drafted 8th Overall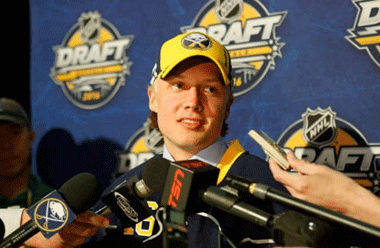 Alex's older brother William Nylander showed the hockey world what he could do at the end of the 2015-2016 season when the Maple Leafs called him up. Now it's Alex's turn. The younger Nylander has great hockey sense and offensive awareness, and he is very creative with the puck. The two brothers will have plenty of opportunities to go head-to-head, as they play for teams in the same division.
Matthew Tkachuk – Calgary Flames – Overall Rating: 73 – Potential: Elite (Medium) – Drafted 6th Overall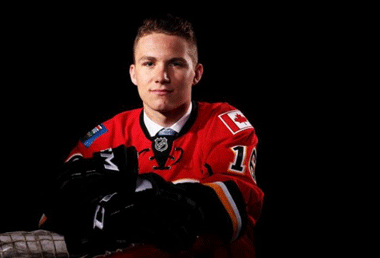 The son of 90s legend Keith Tkachuk, Matthew Tkachuk plays a hard-nosed, physical game like his father. However, Tkachuk is also a gifted scorer who can play an up-tempo style and make sizzling, highlight reel plays. Pundits were surprised when he fell in the draft to the sixth spot, but the folks in Calgary are more than happy that he did.
Jesse Puljujarvi – Edmonton Oilers – Overall Rating: 76 – Potential: Elite (Medium) – Drafted 4th Overall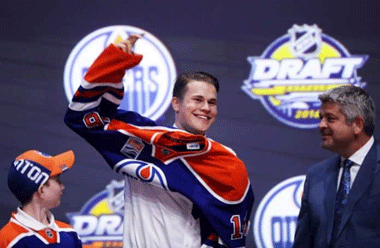 Jesse Puljujarvi is part of an upcoming generation of Finns who are out to prove that they belong to one of the greatest hockey nations on earth. The 2016 World Junior Championships were Puljujarvi's coming out party, where he helped a stacked Finnish team take home gold. Puljujarvi was named the MVP of that tournament. Now he embarks upon his NHL career with an Oilers organization that is trying to build a team around generational talent Connor McDavid. There are rumors that Puljujarvi might be McDavid's linemate this year. Lucky guy!
Patrik Laine – Winnipeg Jets – Overall Rating: 77 – Potential: Elite (Medium) – Drafted 2nd Overall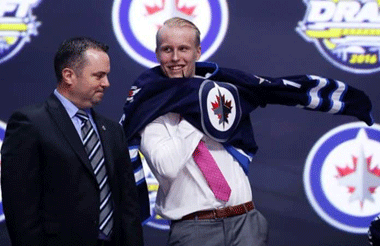 Another key cog on that gold medal winning Finnish Junior team, Patrik Laine made himself a household name during the 2016 World Championships. He co-led the tournament in goals and finished 4th in points—this was as an 18-year-old playing against elite NHLers. Laine's Finnish squad failed to beat Canada in the gold medal game of the Worlds, but he put the hockey world on notice. Laine is a pure goal scorer who can put the puck in the net from anywhere. Comparisons have been made to Alex Ovechkin, and while he doesn't possess Ovi's physicality, Laine may prove to have the same mesmerizing scoring touch.
Auston Matthews – Toronto Maple Leafs – Overall Rating: 77 – Potential: Elite (Medium) – Drafted 1st Overall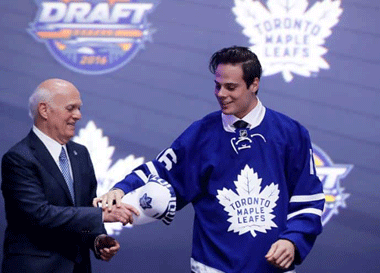 The first overall pick in the 2016 draft is the franchise center the Maple Leafs have been dreaming about since Mats Sudin left. The Leafs have arguably the deepest pool of prospects in the NHL, and Auston Matthews is the best of them all. Arizona isn't usually known for their hockey prospects, but this young man is going to give budding hockey players from the American Southwest something to aspire to. He is a prolific goal scorer, an agile skater, a masterful defender, and an imposing physical presence on the ice. He is the definition of a complete player, and for someone so young to have so many finely polished tools is a rare thing indeed. For a team like the Maple Leafs, which has known nothing but failure and futility for so long, a player with Matthews' talents could be the straw that finally starts stirring the drink.
What do you guys think of the NHL 18 ratings for these promising rookies. Is there anybody rated too low? Who is overhyped? Let us know in the comments or over social media.