As JuJu Smith-Schuster was sprinting to a Pittsburgh Steelers-record 97-yard touchdown reception last week against the Detroit Lions, the rookie receiver kept looking back. There was a reason why: his Madden speed.
It might be the first time a player ever used Madden (and his alleged slow speed in it) to judge whether he could outrun a player in real life. Madden actually had his speed rating at an 89 — a number that changed for the first time this week from the initial 88 — but the game is starting to give the receiver credit as the midseason point approaches.
Smith-Schuster started with a 73 overall rating. Now the NFL's leading rookie receiver in real life (24 catches and 424 yards) is at 77, which is a little low considering who is in front of him. That includes his struggling teammate, Martavis Bryant, recently reinstated Cleveland receiver Josh Gordon and a gaggle of rookies, including Tennessee's Corey Davis, the Chargers' Mike Williams and the Rams' Cooper Kupp.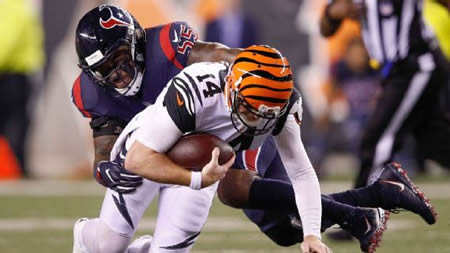 But don't worry too much, JuJu. Madden ratings tend to figure themselves out — and the game has already recognized the 20-year-old's route running (up eight, from 69 to 77) and awareness (up from 68 to 77). Soon enough, the rest could catch up.
With that in mind, here's a spin around the "Madden NFL 18″ universe at midseason, with all the good and bad through the game's virtual byte-sized eyes. To be up front, this is not a comprehensive list.
The 99 club
"Madden NFL 18″ initially had three players with a 99 overall rating: cover boy Tom Brady, Denver linebacker Von Miller and Los Angeles Rams defensive lineman Aaron Donald. Of those, only one remains: Miller.
Brady lost his 99 rating before Week 2, dropping to 98 likely due to a two-point drop in throwing power from 97 to 95. He's still the highest-rated quarterback in the game, one position ahead of the injured Aaron Rodgers.
Donald dropped as low as 97 before Week 3, but rebounded to 98 the following week, his current rating. His block-shedding dropped from 91 to 88, perhaps explaining his one-point dip.
Miller remains a 99 and saw only small changes from his overall rating, with his block-shedding dropping from a 95 to an 88, while his awareness moved from a 92 to a 96 and his acceleration from an 89 to a 90. His man coverage dropped two (64 to 62) and his zone from 74 to 72. His finesse and power moves also dropped one point each.
Meanwhile, Miller has two new contemporaries at the top of Madden: New England tight end Rob Gronkowski and Houston defensive end J.J. Watt.
Watt started as a 98 and graduated to a 99 before Week 5, the same week a fractured left leg ended his season. Gronkowski, meanwhile, was boosted up before Week 4 to a 99 when his awareness jumped from 92 to 94 and his catching from 95 to 96.
Who could join them? It's tough to truly understand the Madden formula and what will warrant bumps in ratings. Based on who is out there, Gronkowski, Miller and Watt could end up having company. There's no reason to think Brady and Donald can't once again achieve 99 status.
The best candidates to crack the 99 club:
Khalil Mack, OLB, Raiders: Mack moved from 97 to 98 already this season (he did so last week). Mack has 42 tackles in real life, which puts him on pace for a career high. He also has a shot to hit double-digit sacks for the third straight season. If he gets there, he could get the last bump he needs.
Antonio Brown, WR, Steelers: Not actually sure what the Madden raters have against Brown, who should be a 99 in my opinion instead of his holding-steady 97. He leads the NFL in receptions (57) and receiving yards (835) and has three touchdowns. His awareness rating is 99 and his spectacular catch rating is up to 98.
Julio Jones, WR, Falcons: He hasn't gotten into the end zone much but is still on pace for a 1,234-yard season. It'd be his fourth straight 1,000-yard year, although his lowest total since his injury-shortened 2013. A few more touchdowns, though, and Brown's rating could bump up, especially since he has been 98 since launch.