EA, in an attempt to make their NBA game franchise better than 2K's, have run simulations in NBA Live 18 to determine who would win out of tonight's offering of basketball games.  EA Sports ran game simulations of the Boston Celtics vs. Cleveland Cavaliers and Golden State Warriors vs. Houston Rockets games, each with "potentially league-shifting implications" if the sims turn out to be correct.
Also, if these turn out to be accurate, this might have some really odd implications on the sports betting market. And will definitely see the end to your Fantasy leagues.
Cleveland Cavaliers win 122 to the Boston Celtics' 104. With Lebron and Wade taking down the new-look Celtics in an "opening night thriller."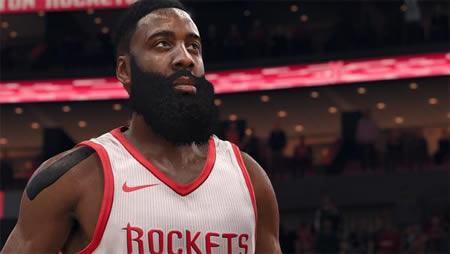 Cavs key stats:
• Kevin Love:  40 points, 13 rebounds, 7 assists – Game High for Points Scored in Sim
• Lebron James: 24 points, 11 rebounds, 12 assists
• Dwayne Wade: 21 points, 5 assists, 5 rebounds – Flash is back to his original form!
• Derrick Rose: 9 points, 13 assists, 5 steals & 3 rebounds – D.Rose played the role of a true floor general.
Celtics key stats:
• Gordon Hayward: 11 points, 5 rebounds, 5 assists
• Al Horford: 29 points, 16 rebounds, 3 blocks – Horford was a beast in the low post offensively. Still wasn't enough for the Win.
Meanwhile, the Houston Rockets should win with 120 to the Golden State Warriors' 111. Harden and Paul blast the Warriors in "amazing co-triple double performance."
Rockets key stats:
• James Harden: 34 points, 11 rebounds, 11 assists, 3 steals
• Chris Paul: 23 points, 14 assists, 10 steals
• Clint Capela & Eric Gordon: combined for a total 39 points. (Gordon w/ 22 points & Capela w/ 17 points)
Warriors key stats:
• Steph Curry: 30 points, 3 assists & 3 steals
• Kevin Durant: 24 points, 11 rebounds, 7 assists
• Draymond Green: 11 points, 13 rebounds, 7 assists
• Klay Thompson: 9 points, 4 rebounds, 2 steals, 3 assists
For more NBA Live 18 News Stay Tuned At our site Mmocs.com here you can get NBA Live 18 Coins with cheapest price.