The mobile version of MapleStory, titled MapleStory M, officially launched today in 140 countries across the globe. While the game was playable for some time in the West, it was only available as a soft launch until now. MapleStory M offers the same endless amount of customization, immersive storylines and epic boss raids that fans come to expect from the epic MapleStory franchise. In MapleStory M, players will return to the Maple World with all the familiar characters and monsters.
Players who take part in the MapleStory M global beta will be the first to explore Maple World with five unique characters, team up with friends to explore mysterious dungeons and get a sneak peek into the various customization options, including the all-new forge system. In MapleStory M, players will: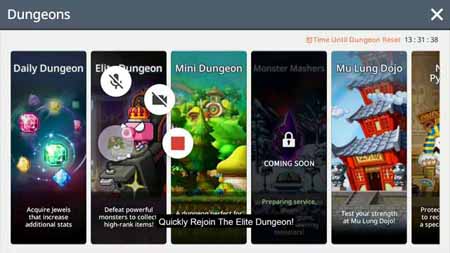 Power Level in Private Mini Dungeons – Players can focus their leveling efforts by taking down monsters of their choice and hunt specific quest items in their very own mini dungeon;
Explore Nett's Deadly Pyramid – Players wanting to press their luck can explore and discover the mysteries of Nett's Pyramid. They must fend off mummies and other monsters to discover mysterious treasures;
Return to Maple World – Players can experience all the familiar characters and monsters anytime straight from their mobile device. MapleStory M is the true mobile MapleStory experience fans have been waiting for.
While it is not a 100% port of the original MapleStory, it is close enough with all the features you expect, including familiar maps, monsters, pets, mounts, the marketplace, tons of cash costumes, and even the plastic surgeon and his crew are back to give everyone a facelift. Nexon recently pushed out MapleStory M in a couple of territories as a soft-launch title, so it seems pretty safe to assume that the official release isn't that far off.
MapleStory M was released in Korea, but there was no word about an English release. Well, it looks like we now know for sure that an English version is coming stateside because a public beta is up on the Play Store right now.
The gameplay isn't quite what you would remember of classic MapleStory, so if you are an older player, be prepared for a few free-to-play shenanigans. Depending on how you view mobile MMOs, that auto-questing system may be a negative or positive. Questing is as simple as tapping on the screen so that your character will continue along its endless grind. Unlike previous mobile MapleStory titles, MapleStory M looks and feels a lot like the PC version of the game.
Play as five unique MapleStory characters hunting for loot in Daily Dungeons. In case you have almost any issues about where by in addition to the best way to work with Maplestory M Trading, you possibly can email us on our own page. Level up, discover new locations, and play with friends in epic boss battles. There is still no official date for when Nexon will release MapleStory M globally, so your guess is as good as mine as to when we will all get to enjoy this game. One of those is the inclusion of an auto questing button at the top left of the screen, just like you would expect to find in the majority of mobile MMOs out there.
Nexon will be nickel and diming its fans when the game's IAPs are live in the finished product. But even with all of the regular complaints, there is something quite endearing about the game that is difficult to just shrug off. Plus it's not like Nexon is known for releasing reasonably monetized games, so you better believe this will be filled with in-app purchases, loot boxes.